Decoration That Lasts
JW Contracting installs many different tiles on swimming pools and spas of all different shapes and sizes. It does not matter whether your swimming pool is rectangular or a natural free form pool with lots of curves. Whether your pool has a 6" band of tile around the waterline or an elaborate raised wall with a spa, we have the expertise to do the job.  We have samples of tiles, coping, and pool finishes available in our showroom.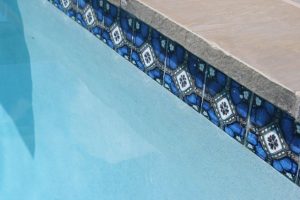 An Important Decision
Selecting the right decorative tile to install on your swimming pool is an important decision to make. You may like a very traditional look or a very natural look. Let us provide you with the very latest tiles available in today's industry today. All of the tiles we install will be frost proof and acid resistant. This will ensure that our quality installation will last a long time.
Tile Gallery
Please click on the picture below to view additional pictures.