Keep it Safe and Clean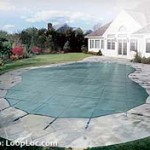 Covering your pool provides many benefits. An Automatic Pool Cover can provide your pool with such benefits as safety, protecting the pool, keeping the pool clean, containing the heat in the pool, reducing chemicals usage and minimizing evaporation. Ask us if an automatic pool cover is right for your pool.
Covering your pool in the winter is a necessity. Winter covers are essential for the safety and durability of your swimming pool while it's not in operation. We install fully warranted mesh and solid winter safety covers in designer colors.  Care given to a pool in the off season is as important as the care given in season. Ask us about installing a Winter Cover on your pool.
Please click on the picture below to view additional pictures.