Ready for The Big Finish?
There are several different options in color and materials to choose from in the industry today. White plaster is the standard and will never become obsolete. We can Color Plaster with a wide selection of different inorganic colorants. Quartz, Pebble, Glass and Polished Marble surfaces come in different colors and textures and will be much more durable and beautiful. These specialty surfaces will completely change the look of your pool and spa. Ask us to assist you in selecting the right pool finish to complete your pool project. This could be the most important choice you make in the overall appearance of your swimming pool.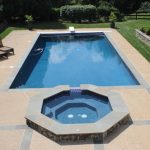 This is a JW Contracting specialty. The interior of a swimming pool is what can really set your pool apart from your neighbors. Not only does the pool finish have to be durable, functional and beautiful but, it will determine the look of your pool. Let's face it, if you have a pool in your backyard, then the water is the focal point and it will really stand out!
Please click on the picture below to view additional pictures.